Home
Intro
Meet The Guys
We Haven't Changed
About The Music
CD Availability
Gigs And News
Reunion Lyrics
Times-Post
Tim Horton
Moose FM Interview
Mothers Misteaks
Grynstone Band
Grynstone Ball
Events Centre
We're Back
Airport Hill Gang
Songs By Gary
•
BlastRocks.com
Grynstone 1970 CMFL Champions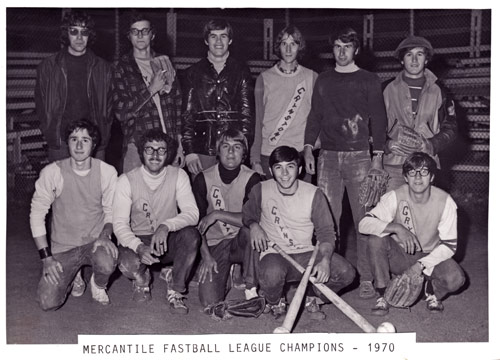 Front row left to right:
Frank Sisco, catcher; Brent Rotondo, pitcher; Gary Pearce, second base; Ron Gauthier, right field; Nick Fasano, left field.
Standing:
Fred Fasano, bat boy; Peter Desilets, short stop; Pat Belisle, third base; Rolly Cote, first base; Terry Rotondo, centre field; Mike Belisle, water boy.
Missing in Action:
David "McCallum" Warrell and Howard "Snuggy" Stone.
Grynstone Grabs CMFL Championship
Grynstone defeated the Mandarin last night 11 - 2 to claim the CMFL Cup, emblematic of Cochrane Mercantile Fastball Supremacy. They finished the regular season in first place and then went on to defeat the Juveniles in semi final action. They continued their unblemished record in routing the Mandarin in the finals to capture the 1970 CMFL crown.
The team management and players would like to express their heartfelt thanks to their loyal sponsors. The London House Tavern donated a generous amount of post game celebratory libations while Wallace Drug Store donated an equally generous amount of Tylenol the day after.